Past Projects - Selected Audio Performance
-----------------------------------------
2011 / 2010 / 2009 /2008 / 2007 / 2006 / 2005
2012
Crests & Troughs

manipulated live and prerecorded vocal material, pretty/dirty crests and troughs, beats, sampling, re-mix, found sound
Featuring -
Gail Priest
Shannon O'Neill
Roger Mills
Scott Saunders
Thursday 7 June 6.30pm

@ Bon Marche Studio 755 Harris Street, Ultimo
University of Technology, Sydney

---
Women of Note - Book Launch
Celebrating the launch of the book Women of Note by Rosalind Appleby (Freemantle Press).

with performances by Cat Hope & Decibel, Gail Priest, Betty Beath, Anne Carr-Boyd & Cathie Travers

Feb 25, 5pm
UWA's Dolphin Theatre, Perth

Click here for more info
---
the NOW now 2012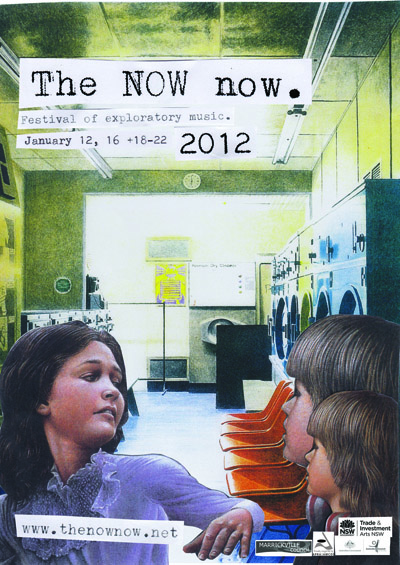 Improv quartet
GAIL PRIEST (Voice & Electronics),
IAN PIETERSE (Baritone Sax),
JEREMY TATAR (Flute) &
TONY OSBORNE (Voice & Electronics)
Saturday Jan 21, 2012
@ The Red Rattler

http://thenownow.net/2012-festival/
---
2011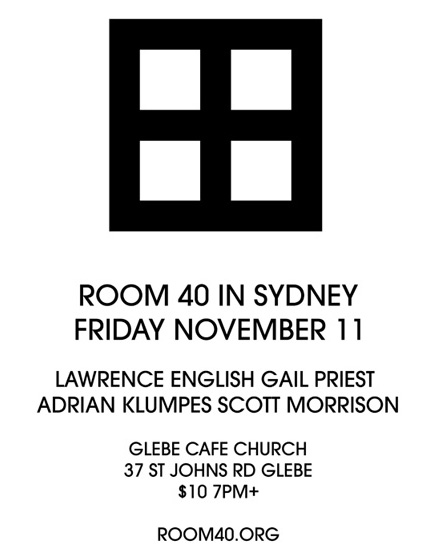 ---
psh.live
Tony Osborne, Gail Priest, Whale + Cheng
voice business
Sunday, October 30, 2pm - 6pm
PSH Gallery
118 Terry Street
Rozelle, Australia
www.anyplaceprojects.com/psh-live/
& Facebook
---
The Gate

Raven
Part-timer / Scissors & Cellotape / Upward Arrows
Ollie Brown
Gail Priest

A line-up curated by Peter Hollo of FBi Radio's Utility Fog, this night will feature a diverse mix of organic sounds meeting and being intermingled with technological counterparts to form something altogether new and exciting.

July 30
The Gate @ Pablo & Rusty's Specialty Coffee
42 Langston Place, Epping
flyer


---
2010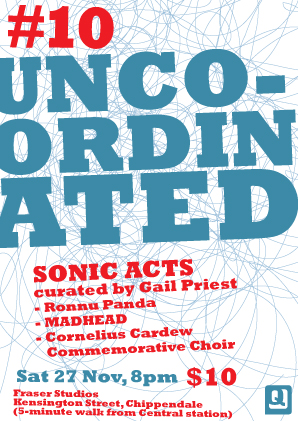 UNCOORDINATED #10
Sonic Acts
with
Ronnu Panda - vocals/laptops
MADHEAD - solo vocals/electronics
Cornelius Cardew Commemorative Choircurated
(and with interludes) by Gail Priest

November 27, 2010
Fraser Studios

---
Presentiments from the Spider Garden CD Launch
with live sets by
Gail Priest
Raven (Peter Hollo/FourPlay)
Jon Watts
Sounds of Homes (Shane Fahey, Tegan Northwood, Honi Ryan)

November 6, 2010
Hardware Gallery
http://www.endgame.com.au
---
October 17, 2010
Serial Space
---
Sept/Oct - Europe Jaunt!
Cafe Wendel, Berlin, Germany
Gail Priest (Aus)
Arnaud Laprêt solo (France)
September 7, 2010
http://www.nstp.de/nstp/frameset-wendel.htm

wonderwep
September 16, 2010
Loos Studios, Den Haag, Netherlands
www.loosfoundation.com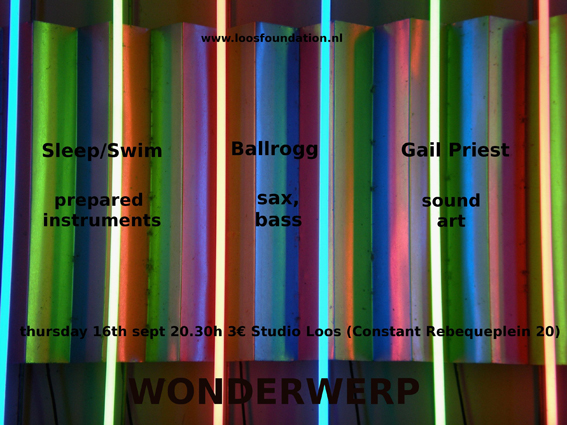 Steim
with Astro Twin (Ami Yoshida & Utah Kawasaki)
dj sniff
Sun Sept 19
Amsterdam, Netherlands
http://www.steim.org/steim/

Ptarmigan
September 24, 2010
Helsinki, Finland
http://www.ptarmigan.fi/en/pages/frontpage
---
Sound Series
Kusum Normoyle, Jon Hunter, Mike Majkowski & Jim Denley,
Automating, Gail Priest

August 20, 2010
@ Hardware Gallery
---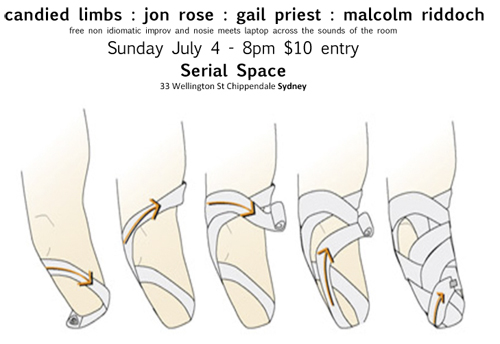 Jon Rose, Candied Limbs, Gail Priest, Malcolm Riddoch
free non-idiomatic improv and noise meets laptop across the sounds of a roomSunday
July 4, 2010
Serial Space
---
An evening of heavy ecstasy with
Machine Death
Mandala Trap
Gail Priest (guest programmer)

July 3, 2010
Artspace - The Gunnery Building
Woolloomooloo
---
Endgame Records presents
A Cloakroom Assembly's Territory + Population Launch

A Cloakroom Assembly
Pimmon
Shane Fahey
A Slow Rip
Gail Priest
June 19, 2010
Megaphon Studios
http://www.endgame.com.au/
photo Sam James
---
The Artist Formerly Known As "The Artist Formally Known As Doctor Deaf" - Solo Reunion Performance Featuring Gary Butler
Gail Priest - laptop, vocals with Anna Chase - vocals, accordion
A first time collaboration that we suspect might yield velvety swathes, pretty shards and hints of song
Simon O'Rorke (New Zealand) - drums, percussion / Jack Dibben - guitar / Milica Stefanovic - electric bass
May 17, 2010
@ Serial Space
http://thenownow.net/
---
2009
Peats Ridge Festival

December 30, 2009
http://www.peatsridgefestival.com.au/
photo Sam James
---

1/4_inch
Rob Hughes, Gail Priest, Mark Brown & Khaled Sabsabi, Emma Russak and Alec Marshall and Sounds Of Homes

August 22, 2008
www.1-4inch.com
---
2008
Electronic
Church
, Berlin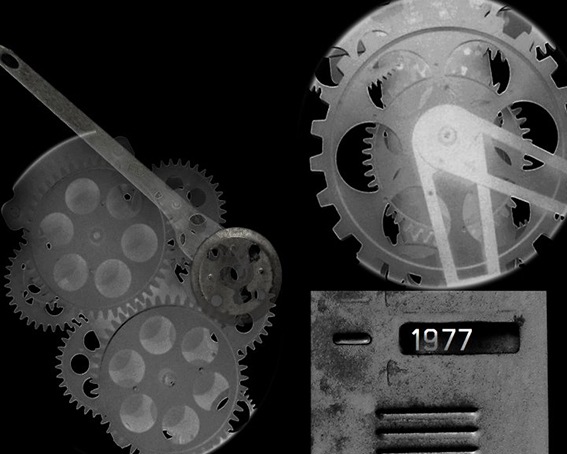 Gail Priest + Sam James (Australia)
Recent audiovisual experiments from Calcutta, Prague & Glasgow
Fabrizio Nocci + Philipp Geist
see a snippet on YouTube and some documentation of the performance (very dark) on Vimeo.
Thanks to Stephane.
June 19, 2008
Electronic Church
---
2007
Circadian Rhythms


Featuring: Tarab, Jim Denley & Gail Priest
Guest curator: Gail Priest
September 14, 2007
Artspace

---
Electrofringe/This is Not Art
An evening of performances from Electrofringe artists in the great outdoors. Featuring: Gail Priest, Secret Killer Of Names, Ross F Manning, Hetleveiker, Fugal Queese, Undecisive God, Anna Chase
September 30, 2007
Newcastle
www.electrofringe.net
---
Immersion: Electrical Empathy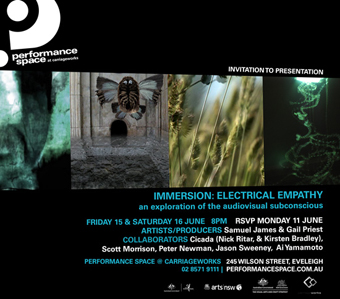 ARTISTS/PRODUCERS Samuel James & Gail Priest
COLLABORATORS Cicada (Nick Ritar, Kirsten Bradley), Scott Morrison, Peter Newman, Jason Sweeney & Ai Yamamoto
June 11 - 16, 2007
Performance Space @ CarriageWorks

---
2006
Imaginary conversations in reverberant rooms Debut CD
with sets by
gail priest and her co-producers:
julian knowles, peter blamey, jasper streit
video interludes by sam james
more info

November 1, 2006
Lan Franchi's Memorial Discotheque


---
Ten[d]ancy
Elizabeth Bay House A one-off sound performance at the historic Elizabeth Bay House to accompany the Tend[d]ancy exhibition. Gail Priest will create a multi-channel composition utilising the unique history and qualities of several rooms of the house.

The Tend[d]ancy exhibition (July 8-Oct 22) includes works by Shaun Gladwell, Gary Carsley, Hannah Furmage, Jonathan Jones, Claire Healey + Sean Cordeiro + Martin Blum + Simone Fuchs.
Curated by Sally Breen & Tania Doropolous

August 18, 2006
Elizabeth Bay House

---
Liquid Architecture 7
Performance Space The Sydney leg of the annual Liquid Architecture festival of sound arts. Concert 1 featuring:
Pimmon
Dean Roberts (NZ)
Greg Davis & Jeph Jerman (USA)
Donna Hewitt & Julian Knowles
Gail Priest

July 6, 2006
Performance Space
Gail Priest also included on the Liquid Architecture 7 CD sampler
---
2005
Typhoon -
performing
sound

An extreme and diverse series of performances drawing on experimental musics from the areas of noise, rock, improv and digital. The event will be a beguiling clash of overtly physical performances—highly performative, although not necessarily body oriented works.
Program 1: Haco, Joyce Hinterding, Robin Fox, Fast Mountain Die
Program 2: Jojo Hiroshige, Lovely Midget, Gail Priest, Stasis Duocurated by Caleb K.
October, 21-22, 2005
Artspace

photo Mr. Snow
---
Electrofringe
Live audio visual perfomance with Samuel James (video) for Elec-Sonic BBQ.

October 3, 2005
TPI House, Newcastle
---
Continuum Sax - 4 x 4
Continuum Sax, in collaboration with sound artist Gail Priest, present an exciting concert that includes the world premiere of a new work for saxophone quartet by Jane Stanley, the Australian premiere of Rolf Gehlhaar's Divine Wind, a new work for saxophone and electronics devised by Gail Priest and Continuum Sax, and a performance of Andrew Ford's Four Winds to mark the launching of Continuum Sax' second CD.

Margery Smith, soprano sax; James Nightingale, alto sax; Martin Kay, tenor sax; Jarrod Whitbourn, baritone sax; and special Guest Artist: Gail Priest, Sound Artist
August 20, 2005
Music Workshop, Sydney Conservatorium of Music
---
The Audiotheque 2005: Finding The Signal In The Noise
ABC's The Night Air present an evening of live audio experimentation with sound and visual artists Ben Byrne, Shannon O'Neill, Pimmon, Joyce Hinterding, Rik Rue, Gail Priest, Ivan Lisyak, Sherre Delys, and Fold. Presented in association with The Media Department at Macquarie University. The Audiotheque 2005: Finding The Signal In The Noise
was broadcast nationally on September 18 2005 at 8.30pm
August 27, 2005
ABC Studio 22, ABC Centre