Installation
2016 / 2015 / 2014 / 2013 / 2012 / 2011 / 2010 / 2009 /2008 / 2006 / 2003
2017
Experimenta Make Sense
International Triennial of Media Art 2017-2020
SonoLexic is an exploration of how we process the listening experience through language. Foregrounding the intimate cross-modal association of sound and words, the artwork proposes a new variant of synaesthesia – 'ideathesia'.
An Experimenta and Australian Network for Art and Technology (ANAT) Commission.
Concept, text, sound and video by Gail Priest.
Object design and fabrication by Thomas Burless (tomikeh).
RMIT Gallery
2 October - 11 November 2017
http://experimenta.org/makesense/
National Tour 2018-2020
Sounding the Future, group exhibition
UTS Gallery, Sydney
2016
Runic Engine: Industrial Dreaming
he 'Runic Engine' is a chance-based compositional structure derived from the format of a simple reading of the divinatory symbols called Runes.
In the traditional version of a reading the first rune represents the present, the second the action, the third the future outcome. Using Max/MSP programming this format has been co-opted to become a chance based compositional process.
Max/MSP programming: Wade Marynowsky | Photo: Samuel James | Support: Australia Council for the Arts | The Sonoretum is run by Kapelica Gallery in collaboration with Egon March Institute and supported by the Ministry of Culture of the Republic of Slovenia and the Municipality of Ljubljana - Department for Culture

http://www.kapelica.org/index_en.html
Songmapping Olafsfjör∂ur - installation
Sound creations made in and around the town of Ólafsfjörður while on the Nor∂andvindur: North Wind Sound Art Residency at Listhus.
For the festival I presented 2 video works, Bee Breath & So Much Water as wall-projections, as well as the two bodies of work Heraclitus in Iceland (compositions) and Singing with Scenery (improvisations) via an interactive map/interface accesed via an iPad.
See online project
See live performance
Sounding the Future - ISEA2016 Hong Kong
First exhibited as part of .move ON, Werkleitz (see below)
For full information see www.soundingthefuture.com
2015
Sounding the Future - premiere
An immersive, interactive sound and video installation, Sounding the Future uses speculative narratives to consider what the future might sound like and how this may manifest as art.
Concept, text, sound, video Gail Priest
Interactive programming Julien Pauthier
Furniture design and fabricationThomas Burless/tomikeh
Includes feature interviews with: Robin Fox (AU) Michaela Davies (AU) Guy Ben-Ary (AU) Cat Hope (AU) George Poonkhin Khut (AU) Pia van Gelder (AU) Peter Blamey (AU)
And extra commentary from: Peter Hollo (AU) Matt Cornell (AU) Hamish Innes-Brown (AU) Mamoru (JP) Jin Sangtae (SK)
For full information www.soundingthefuture.com

This installation is part of a larger body of work with a range of outcomes, undertaken as part of my Australia Council Emerging & Experimental Arts Fellowship 2015-2016.
2014
Artmonth: Singing with Sines I & II
Home@735 Gallery
Singing with Sines is a project exploring the interplay of pure and raw sounds—sine tones and voice.
The sine tone is a valuable tool for investigating the frequency properties of sounds and their relation to the harmonic scale. I bring a very limited education in physics to my work as a sound artist/composer relying rather on the nebulous idea of 'musical instinct.' In Singing with Sines I attempt to explore this contrast: the organic way that I understand music through the voice, and the synthetic manufacture of notes through technology.

This exploration treads lightly in the footsteps of pioneering composers such as La Monte Young, with his works exploring the psychoacoustic properties of the harmonic spectrum; and Alvin Lucier with his interplay of sine tones, instruments and acoustic space; but I cannot admit to a similar rigor of process. Both Singing with Sines pieces begin with minimalist restraint, exploring the interference patterns of the organic and synthetic, but gradually give way to the sensualities of harmony and polyphony resulting in baroque pop indulgences.
In this manifestation, the audio works are accompanied by their waveforms rendered as large-scale wall tracings. For me this representation of the composition is a far more meaningful visualisation than the traditional notes on a stave and offers a particular graphic elegance. The act of tracing this image by hand directly onto the walls of the gallery is one of translating the digital back into the analogue, offering a foil to the compositional process of combining the analogue voice with the sine tone in a digital format.
See previous project pages for Singing with Sines I (2011) & II (In a Silent Way, 2012)

Home@735 Gallery
March 13-20
Opening: Thurs March 13, 6-8pm
Artist Talk Saturday 15th March, 2pm
coinciding with Art Cycle 5: Bourke St Cycleway, part of ArtMonth http://www.artmonthsydney.com.au/exhibitions/13314
2013
Alex Kershaw
Fantasticology Tokyo: faults, flesh and flowers

Sound design for for Alex Kershaw's multi-screen video installation.
Art Gallery of NSW
12 Sep – 10 Nov 2013
http://www.artgallery.nsw.gov.au/exhibitions/alex-kershaw/
2012
In a Silent Way
Image: RGB, Matt Warren, 2012
Joel Stern, Gail Priest, Samaan Fieck, Lawrence English, Darren Cook, Nicholas Bullen, Monika Brooks, Laura Altman
curated by Matt Warren, 2012 CAST Curatorial Mentorship recipient.

Singing with Sines: The next 10 minutes…
Gail Priest
"There is this sense of something imminent. And what is imminent, we find, is neither the past nor the future, but simply — the next ten minutes…We can go no further than that, and we need go no further." Morton Feldman, The Anxiety of Art, 1965
The next 10 minutes… is a continuation of my Singing with Sines project. These works are influenced by artists such as Morton Feldman and Alvin Lucier and explore the interaction of the organic grain of the voice and machinic purity of the sine tone. For this new work I used an extremely reduced sound palette of a 160Hz tone and a fragment of one vocal note—all harmonic changes are via pitch shifting. Part one explores sustained tones, the sine performing flawlessly in a manner the voice cannot match. Part two embraces and magnifies the undulations of the vocal tone. In the final part the voice fragment is further segmented and manually re-tuned to form a melodic phrase. Through this process the voice loses almost all trace of its human source.
July 27 - Aug 26
CAST Gallery
27 Tasma Street
North Hobart, Tasmania
www.castgallery.org
2011
The Body is A Big Place
Helen Pynor & Peta Clancy
with sound by Gail Priest
The Body is a Big Place by Helen Pynor and Peta Clancy is a new media commission exploring the fluidity between bodily boundaries inherent to the organ transplantation process, the ambiguous boundary between life and death, and the complex and multilayered responses reported by organ transplant recipients.

The Body is a Big Place by Helen Pynor and Peta Clancy (with sound by Gail Priest) was awarded a an Honary Mention in the 2012 Prix Ars, Hybrid Arts category with documentation exhibited as part of the Cyberart exhibition, OK Centre Linz, 2012.
http://prix2012.aec.at/prixwinner/6286/
November 4 - 26
Opening November 3, 6-8
Exhibition open 10am - 5pm
Performances Mon Nov 7 & 21, 5pm (time may vary)
Performance Space
CarriageWorks, Wilson St Eveleigh
www.performancespace.com.au
SNO 72: Singing with Sines
sound work by Gail Priest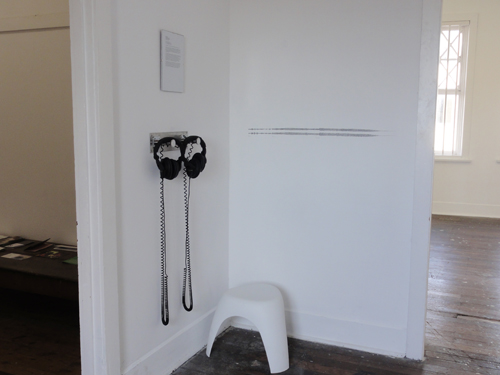 Singing with Sines
in 3 parts—continuous
Part I: test toning (2mins)
Part II: rebeepbeep (4mins)
Part III: eeyeaaehhh (4:30mins)

Headphone soundwork and wall tracing
opening July 2, 3-6pm
July 3-31
Friday to Sunday, 12-5pm.
SNO gallery
Level 1, 175 Marrickville Rd, Marrickville
www.sno.org.au
Mobile States Tour
Samuel James: Vivaria

VIVARIA CUBE (excerpt 10 minutes) from Sam James on Vimeo.
four channel video installation by Samuel James
featuring dancers Martin del Amo, Lizzie Thomson, Georgie Read, Peter Fraser, Linda Luke
Tour August/September: Adelaide Festival Centre; Performance Space, Sydney, Salamanca Arts Centre, Hobart, Arts House, Melbourne
2010
Samuel James: Amygdala
with sound by Gail Priest
Twelve screen/four projector installation reanimating twenty two performance projections from 1997-2009. At Artspace, Sydney (including sound by Gail Priest)
exhibted at Artspace, August 2010
http://shimmerpixel.blogspot.com/
Samuel James: Vivaria
with sound by Gail Priest
exhibited in Gesture - Reeldance Installations #4
video installation by Samuel James
featuring dancers Martin del Amo, Lizzie Thomson, Georgie Read, Peter Fraser, Linda Luke
EMPA, University of NSW
June 15-19, 2010
http://shimmerpixel.blogspot.com/
multi-channel video installation by Alex Kershaw filmed in Alice Springs, NT
Sydney - Performance Space @ CarriageWorks
Feb 12- March 6
http://performancespace.com.au
2009
Urban Runes
multi-channel sound installation with video for solo viewer
Concept, sound, images: Gail Priest
Max/MSP programming: Wade Marynowsky
Video editing: Sam James
This project has been developed in residence at Artspace as the second stage of the the exchange between Artspace and Tokyo Wonder Site.
Exhibited as part of Between Site & Space
Artspace March 12-April 13
Heidrun Löhr: Projections, The Archive Project
with sound by Gail Priest
a photographic documentation of the contemporary performance scene works over the last 10years.
See RealTime article
Critical Path, The Drill Hall, Sydney,
May 13-17
2008
28 Songs for a City: Tokyo
Tokyo Wonder Site Residency & exhibition
28 days
28 locations
28 live improvisations with the city
28 earprints to mark the spotExhibited as part of:


Diorama of a City:
Between Site and Space
Sept 13-Oct 13, 2008
Tokyo Wonder Site Shibuya

Artists: exonemo, Alex Gawronski, Paramodel, Tim Silver, Hiraku Suzuki, Gail Priest


This project was created while in residence at Tokyo Wondersite, co-presented by Artspace, Sydney.
2006
Alex Kershaw: A Lake Without Water
with sound by Gail Priest

Multichannel video and sound installation by Alex Kershaw with Scott Otto Anderson & Gail Priest
October 26 - 18 November 18, 2006
Artspace
2003
Sonic Salon: Skin, Blood, Bone
"The body is a liar,
Even blood doesn't tell the truth"
Sonic Salon is an immersive installation created through surround sound, video and presence, exploring the physical infiltration of desire. An intimate experience for the solo viewer, the work aims to heighten the senses and sensuality.
more info
Creator/producer/sound - Gail Priest
Video/space design - Sam James
Performance Space
June 2003